Kigali international airport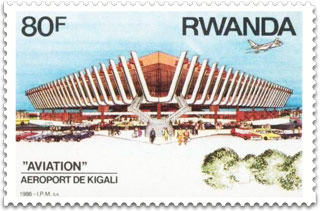 Kigali International Airport (IATA: KGL, ICAO: HRYR), formerly known as Gregoire Kayibanda International Airport, sometimes referred to as Kanombe International Airport, is the main airport serving Kigali, the capital of Rwanda. It is the country's main airport, but it is also of regional importance as it serves Congolese, Burundian and Ugandan cities.
Photo on the right: a 1986 Rwandan stamp showing the original and innovative architecture of main terminal still in operation today.
The airport is located on the outskirts of Kanombe, southeast of Kigali, about 5 km from the city center by expressway and about 10km from the central business district of the Rwandan capital.
Located at 1491 meters above sea level, its terminal is one of the highest in the world among international airports. Its 3500 meter runway allows landing of all types of aircraft and has allowed the continuous increase of passenger traffic to the 800 000 passengers who passed through it in 2017.
Kigali airport has three terminals and two heliports. The main terminal was built to replace the smaller building that now serves as a VIP terminal. The third terminal is the cargo terminal, which enjoys great activity due to the isolation of Rwanda. The latest renovations and modernizations of the airport have allowed it to be in 2017 ranked 7th among the best regional airports in Africa for its fire/safety standards and 2nd in Africa for its compliance with ICAO standards.
The topography of Kigali does not allow to extend the capacities of the current airport and the passenger traffic being constantly increasing in Rwanda, a new airport intended to serve the capital and to replace the airport of Kanombe is currently under construction in Bugesera, 40km south of Kigali. The new airport will have only one runway but will have the ability to see a second one built later.
In September 2016, the Rwandan government sealed a partnership with the Portuguese company Mota-Engil Engenharia e Construção África . This company is responsible for the construction and for a 25 years management of the airport. The new airport will have at its inauguration a capacity of 1.7 million passengers per year. This capacity will be expandable to 4.5 million passengers once all infrastructure is completed. In exchange Mota-Engil Engenharia and Construção África will cover the costs of 418 million USD for the first phase and 400 million USD for the second phase, a total investment of 818 million US dollars.
| | |
| --- | --- |
| | The reception of departing and arriving travelers makes of Kigali International one of the nicest airports in East Africa. Accessible sanitary facilities, shops, parking, bars and air-conditioned halls allow passengers to wait for their flight in the best conditions. With a flight punctuality greater than 90%, the Kigali international airport will guarantee a seamless aerial experience ! |
| | |
| --- | --- |
| | In order to facilitate your trip, we advise passengers to take all necessary measures to be in compliance with sanitary, custom and administrative requirements (passport, visa, etc..). |
Check the flight display board for arrivals and departures at the Kigali airport. Stay informed of delays and cancellations bookmarking this page :